Episodes
Friday May 22, 2020
Friday May 22, 2020
Join NASA Astronaut and Artist Nicole Stott for this episode of The Cosmic Shed.
The first person to paint a watercolour in Space. The last person to return to Earth from the International Space Station in the Space Shuttle and now, the most recent guest on The Cosmic Shed podcast - it's been quite a life for Nicole Stott so far.
Nicole chats to Andrew for this very special episode of the Cosmic Shed as America prepares to launch people to the ISS once more. Nicole talks with Andrew about her Space missions, her art and what we can all learn from Astronauts as we find ourselves in this unprecedented lockdown. 
Download, listen and be inspired.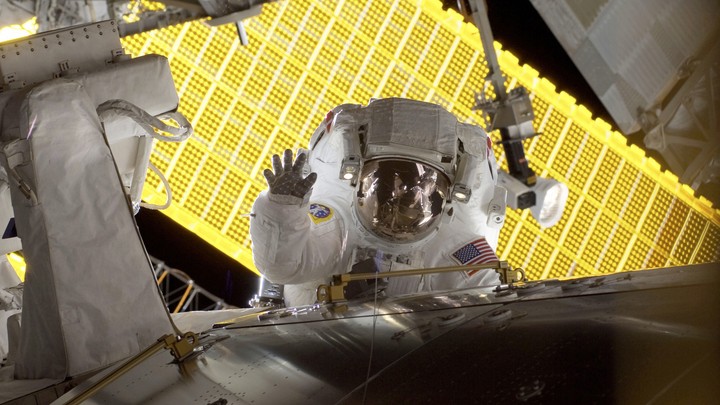 Nicole Stott on her Spacewalk outside the International Space Station
Nicole Stott was launched to the International Space Station with the crew of STS-128, participating in the a spacewalk that lasted over 6 hours. When Nicole returned on STS-129, she became the last Expedition crew-member to return to Earth via the space shuttle. Nicole completed her second spaceflight on STS-133.
One for the quiz buffs - STS stands for Space Transportation System or The Shuttle as it's more commonly known.

Nicole Stott painted the first watercolour in Space
Nicole served as a Flight Engineer on ISS Expedition 20 and Expedition 21 and was a Mission Specialist on STS-128 and STS-133. 
Nicole is also part of the wonderful Space For Art Foundation who put together large-scale community art projects to inspire and unite children in hospitals, refugee centers, and schools around the world. They have a new project called BEYOND which we'd recommend anyone who knows any children or is a child to get involved in. Go here to see how.

Nicole Stott talking to our Andrew
You can see Nicole's Artwork here and, if you are really clever, you'll notice that you can actually email to ask about how you might go about actually owning some...
The Cosmic Shed. Science Fact, Science Fiction and Everything in between.
show notes
Nicole Stott is also a founding director Space for Art
The Cosmic Shed is part of the Stimulus Network
You can subscribe to The Cosmic Shed podcast
Very special thanks to Will Mountford of the Eureka Nerd podcast for editing this episode.